Must-Try Dubai Activities and Experiences - Extravaganza Nationwide
By Stella Tessa
Welcome to the Dubai Extravaganza - a world of must-try Dubai activities and experiences that will leave you breathless and exhilarated. Dubai, the vibrant city of wonders, offers a treasure trove of thrilling adventures and captivating encounters that are sure to ignite your senses. From soaring above the desert in a hot air balloon to witnessing the grace of dolphins in a captivating show, from jet skiing along the sparkling coastline to ziplining through the open skies, Dubai has it all. Prepare to be amazed as you embark on this extraordinary journey, immersing yourself in the magic and opulence that define this remarkable destination. 
Get ready to create unforgettable memories as you indulge in the Dubai Extravaganza - an experience like no other.
Our most recommended things to do in Dubai
Dubai is a vibrant and cosmopolitan city known for its towering skyscrapers, luxurious resorts, and stunning desert landscapes. With a wide range of activities and attractions to choose from, it can be overwhelming to decide what to do during your visit. To help you plan your itinerary, we have compiled a detailed list of our top recommendations for things to do in Dubai. From iconic landmarks to thrilling adventures, there's everything for all comers to enjoy in this remarkable city.
Dolphin Show 
Dubai Dolphin Show
Welcome to a world where dreams dance on water and grace takes flight. Prepare to be enchanted by the Dubai Dolphin Show, where the intelligence and agility of these majestic marine creatures are on full display. 
Step into a state-of-the-art dolphinarium, where dolphins become performers and the audience becomes captivated spectators. Witness their synchronized movements, awe-inspiring flips, and joyful leaps, all expertly choreographed with their trainers. Immerse yourself in an interactive and educational experience that reveals the secrets of these charismatic creatures, their behaviors, and their natural habitats. The Dolphin Show is a celebration of the beauty, intelligence, and bond between humans and these incredible marine mammals.
Hot Air Balloon Experience
Embracing the spirit of adventure as you ascend into the boundless sky on a Dubai Hot Air Balloon is surely a memorable experience. At dawn, as the world awakens, find yourself floating weightlessly above the breathtaking desert landscape. 
The sun peeks over the horizon, casting a golden glow that illuminates the rolling sand dunes below. Feel the gentle breeze carry you higher, revealing an awe-inspiring panorama of nature's masterpiece. Capture the mesmerizing beauty with your camera and create memories that will stay with you forever. After your ethereal flight, descend to earth and indulge in a sumptuous breakfast amidst a traditional Bedouin camp, where the warmth of Arabian hospitality awaits.
Hot Air Balloon Experience in Dubai
Dubai Dhow Cruise
Step aboard an elegant wooden dhow, where time stands still and history comes alive. Embark on a Dubai Dhow Cruise and sail along the glistening waters of Dubai Creek or Dubai Marina. As you drift along the calm currents, immerse yourself in the ambiance of a bygone era, where seafaring traditions blend with modern luxury. 
The vibrant souks of Old Dubai and the futuristic skyscrapers of the city's waterfront are the iconic landmarks that line the shoreline, and you will admire them greatly. Indulge in a culinary feast, sampling delectable international and local dishes, while being serenaded by live music that weaves tales of Arabian culture. The Dubai Dhow Cruise offers a tranquil escape, a journey through time, and an unforgettable evening under the stars.
Dubai Dhow Cruise with modern luxury
Jet Skiing in Dubai
You can embrace the thrill of speed and the spray of the sea as you embark on a heart-pounding Jet Skiing adventure in Dubai. As your jet ski slices through the turquoise waters of the Arabian Gulf, you will feel the force beneath you. You can race by recognizable buildings that form part of Dubai's skyline as you whiz along the beach.
Experience the bustling energy of the city's coastline as you pass the man-made wonders of Palm Jumeirah and the majestic Burj Al Arab, which stands boldly against the skyline. Let the wind whip through your hair as you navigate the waves, experiencing the exhilaration of this high-speed water sport. Jet Skiing in Dubai is not just a ride; it's a thrilling escapade that combines adrenaline, stunning views, and an indomitable spirit of adventure.
Ziplines in Dubai
Travelers, the adventurous thrill-seeker, can unleash your inner excitement and take flight on the soaring Ziplines of Dubai. The experience will have you suspended in mid-air as you traverse daring routes with unmatched views. You will glide above Dubai Marina, a tapestry of modern marvels where skyscrapers reach for the heavens. 
The rush of adrenaline will be yours to feel as you soar across the Dubai Fountain, witnessing its choreographed dance from an extraordinary vantage point. Surrender to the gravity-defying excitement as you zip through the open skies, capturing breathtaking glimpses of the city's iconic landmarks below. From gentle ziplines suitable for families to high-speed courses that cater to daredevils, Dubai's ziplines offer an unforgettable experience that will leave you breathless and craving for more.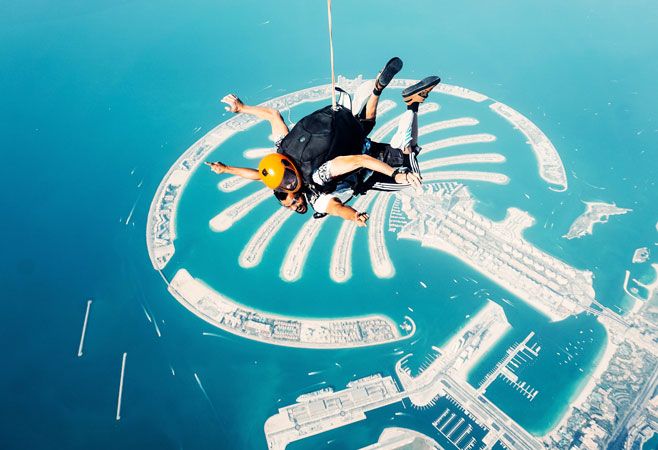 Dubai's ziplines offer an unforgettable experience
Dubai Desert Safari, Quad Bike, Camel Ride & Al Khayma Camp
Visitors who are intrepid explorers can take a guided Desert Safari Dubai tour to explore the captivating desert outside of the nation. You will be picked up from your hotel or selected location by your tour guide and driven to the Dubai desert. After a short break, get ready for an exhilarating dune bashing session in a 4x4 vehicle. Expert drivers will take you on a thrilling ride up and down the sand dunes, creating an adrenaline-pumping adventure. You can also try out sandboarding, where you glide down the sandy slopes on a board, and capture amazing photos of the rolling dunes.
Proceed to the Al Khayma camp, a traditional Bedouin-style camp, where you can experience the rich culture and hospitality of the desert. Enjoy an optional camel ride and included refreshments. If you choose the extended tour option, you will have the opportunity to indulge in a delicious BBQ dinner and witness entertaining shows, including belly dancing and cultural performances. As the tour comes to an end, you will be dropped back to your hotel or selected location, with memories of an unforgettable desert adventure.
Explore the captivating desert outside of Dubai
Dubai Aquaventure Waterpark Admission Ticket
The seeker of excitement, can escape the heat and enjoy a day of thrills and spills at Dubai's Aquaventure Waterpark, the largest Dubai waterpark in the Middle East. With your day ticket, get ready for an adrenaline-fueled adventure as you experience dozens of rides and waterslides. Challenge yourself to conquer the Tower of Poseidon, where you'll do battle with the King of the Sea. 
Experience the dark and twisting Aquaconda water tunnel, grab an inner tube and take a trip on the rapids of a tidal river, and test your nerves on the exhilarating Ziggurat. For the brave at heart, take the plunge down the Leap of Faith, a near-vertical freefall waterslide that propels you through a clear tube submerged in a shark-filled lagoon.
In addition to the thrilling rides, the Aquaventure Waterpark offers a private beach where you can relax and soak up the sun. Take a break from the excitement and enjoy light snacks and refreshments from on-site restaurants. Families with young children can visit Splashers, a water playground specially designed for kids, where they can splash around and have fun in a safe environment.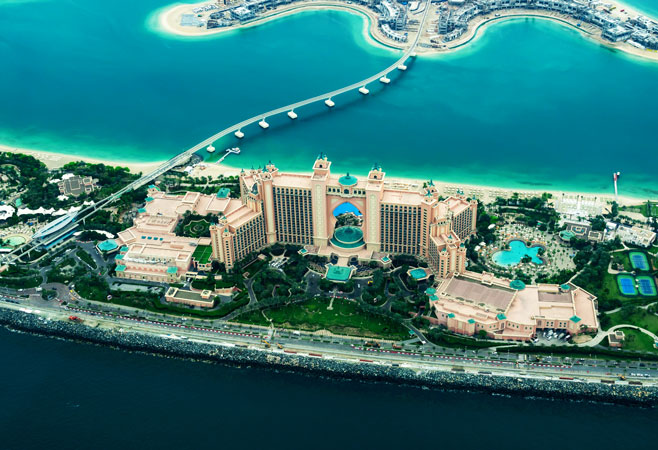 Dubai Extravaganza offers a kaleidoscope of incredible activities
The Dubai extravaganza offers a kaleidoscope of incredible activities and experiences that showcase the true essence of this captivating city. To unlock the full potential of your Dubai adventure and make the most of your trip, it's essential to have your UAE visa ready conveniently. Don't let the visa process be a hassle; instead, opt for a seamless and hassle-free experience through UAE Immigration Services. Apply for your visa online with ease and efficiency, granting you the freedom to explore these remarkable Dubai activities without any worries.
Visit our website to apply for your UAE visa online, conveniently and reasonably. With a simple and user-friendly process, you can secure your visa from the comfort of your home. Hold on to the chance to embark on your Dubai trip and explore the wonders of this captivating city.
You, the aspiring traveler, can embrace the magic of Dubai and apply for your UAE visa today. Take the first step towards making your dream trip a reality and create memories that will last a lifetime. See you in Dubai!
HOW CAN WE HELP?
NEED HELP 24/7
Wordwide phone support

How it works ?
APPLY WITH CONFIDENCE
Safety, Fastest, Reliable, Save Time.
Secure Online Payment.
3 Working Days Guarantee.
No Hidden Fees and No Traps.
Money Back Guarantee if Declined.