UAE Holidays: A Traveler's Guide to Experiencing the Rich Culture and Spectacular Landscapes
By Jenna Jolie
The United Arab Emirates (UAE) is a land of contrasts where modernity meets tradition, and bustling cities blend seamlessly with stunning natural landscapes. This dynamic fusion is especially evident during its holidays, which offer travelers a unique opportunity to immerse yourselves in the rich culture and vibrant festivities of this captivating destination. In this comprehensive guide, we will delve into the most celebrated UAE holidays that perfectly vibe with travel, providing an unforgettable experience for both local and international explorers.
Famous Holidays In Dubai You Must Experience Once
Dubai, a dazzling oasis of modernity and tradition, offers a tapestry of celebrated holidays that reveal the essence of this dynamic city. These iconic occasions provide a unique insight into Dubai's spirit. Join us as we explore the captivating holidays that define Dubai's character, each offering an unforgettable glimpse into its vibrant culture and lifestyle. Whether you're a shopper, a culture enthusiast, or a curious traveler, these famous holidays in Dubai are essential to fully embrace the city's allure. Let's embark on a journey through these remarkable festivities and uncover the heart and soul of Dubai during its most cherished moments.
Eid al-Fitr - Celebrating the End of Ramadan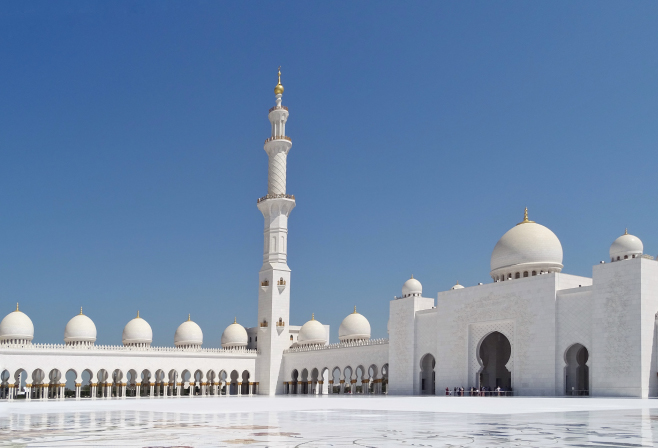 Eid al-Fitr - Celebrating the End of Ramadan
Eid al-Fitr, also known as the "Festival of Breaking the Fast," is one of the most important religious holidays for Muslims around the world, marking the end of Ramadan, a month of fasting and spiritual reflection. In the UAE, this joyous occasion is celebrated with grandeur and enthusiasm, making it a remarkable time for travelers to witness the local culture in all its splendor.
Visitors can indulge in the traditional Iftar feasts, where families and communities gather to break their fast. The festive atmosphere permeates the air, with vibrant decorations adorning streets and markets. Traditional dances, music performances, and cultural events are organized, allowing travelers to immerse themselves in the local traditions.
National Day - A Patriotic Extravaganza
Every year on December 2, the UAE commemorates the unification of the seven emirates into a single country in 1971 with a patriotic spectacle known as National Day. This festival serves as a powerful reminder of the country's diversity, pride, and cultural diversity.
Travelers visiting during this time can expect a visual feast of dazzling fireworks, captivating parades, and flag-waving celebrations. The UAE's deep-rooted traditions come to life through cultural displays, traditional performances, and art exhibitions, allowing visitors to connect with the heart and soul of the country.
Experience the National Day of the United Arab Emirates
Dubai Shopping Festival - A Shopper's Paradise
For those looking to combine travel with retail therapy, the Dubai Shopping Festival (DSF) is an annual extravaganza that offers an unparalleled shopping experience. This month-long festival, usually held in January and February, transforms Dubai into a shopper's paradise, attracting millions of visitors from around the world.
Shoppers can enjoy massive discounts, exclusive offers, and a wide range of products, from high-end fashion to electronics. Beyond shopping, DSF features live entertainment, cultural shows, and impressive fireworks displays, creating an electrifying atmosphere that appeals to both shopaholics and culture enthusiasts.
Dubai is the shopper's paradise while traveling
Al-Hijra - Welcoming the Islamic New Year
Al-Hijra, the Islamic New Year, is another significant holiday in the UAE's cultural calendar. While not as grand as some other celebrations, it holds deep religious and historical importance. It marks the migration of the Prophet Muhammad from Mecca to Medina and offers travelers a chance to witness the nation's reverence for its Islamic roots.
During Al-Hijra, travelers can experience the UAE's tranquil side, as mosques host special prayers and serene gatherings. Exploring the country's historical sites, such as the Al Fahidi Historic District in Dubai or the Al Ain Oasis, provides a serene backdrop for reflection and connection with the nation's heritage.
Travelers can experience the UAE's tranquil side during Al-Hijra
Dubai International Film Festival - A Cinematic Odyssey
Film enthusiasts and cultural aficionados are in for a treat during the Dubai International Film Festival (DIFF). This annual event, usually held in December, showcases a diverse selection of international and regional films, bringing together filmmakers, actors, and cinephiles from across the globe.
Travelers can attend screenings, panel discussions, and workshops that provide insights into the world of cinema. The festival not only celebrates artistic expression but also offers a unique platform for cross-cultural interactions and exchanges, making it a perfect blend of entertainment and cultural exploration.
Dubai International Film Festival
The holidays in Dubai are a true reflection of its diverse culture, blending ancient traditions with modern celebrations. From the spiritual significance of Eid al-Fitr and Al-Hijra to the patriotic fervor of National Day and the cinematic charm of the Dubai International Film Festival, each holiday offers a distinct glimpse into the nation's vibrant tapestry.
Travelers seeking a unique and enriching experience should consider aligning their visit with these celebrated occasions. Whether indulging in the culinary delights of Eid al-Fitr, reveling in the patriotic spirit of National Day, or immersing themselves in the cinematic world of the Dubai International Film Festival, UAE holidays provide an unparalleled opportunity to connect with the country's culture and people. So, pack your bags and embark on a journey to the UAE, where holidays come alive with vibrant colors, rich traditions, and unforgettable memories.
To make the most of these unforgettable moments, seize the opportunity to explore the UAE with the utmost convenience. The wonders of the Emirates await at your fingertips through our UAE Immigration Services website. Apply for your visa online and unlock a realm of benefits, simplifying your travel journey like never before. Whether it's seamless visa processing, insider tips, or exclusive offers, our platform ensures that your adventure is both memorable and hassle-free.
Apply UAE e-visa now to embark on your journey of a lifetime, and immerse yourself in the captivating festivities of the UAE. Let the colors, traditions, and flavors of this remarkable destination paint a vivid canvas of memories. Join us in celebrating the UAE's holidays and experience the magic firsthand!
HOW CAN WE HELP?
NEED HELP 24/7
Wordwide phone support

How it works ?
APPLY WITH CONFIDENCE
Safety, Fastest, Reliable, Save Time.
Secure Online Payment.
3 Working Days Guarantee.
No Hidden Fees and No Traps.
Money Back Guarantee if Declined.