Dubai Attractions - A Dream Destination For Tourists
By Katie May
Dubai attraction: Dubai is a city that seamlessly blends Old World charm with modernity, creating an enchanting contrast few other cities in the world can match. Over the past half-century, the city has transformed from a metropolis dotted with towering skyscrapers to a metropolis filled with luxury shopping malls and luxury hotels.
Coming to Dubai, visitors will be immersed in the nature and majestic landscape of this country. In this article, we will introduce visitors to a list of Dubai attractions that you should not miss when traveling to Dubai.
What Makes Dubai Attractions So Unique?
Dubai's attractions are unique in many ways. Dubai has firmly established itself as a leading destination for tourists, attracting millions of visitors from all corners of the globe every year. The city is known for its superlative structures, such as the world's tallest skyscraper and largest mall, which are impressive feats of engineering and architecture.
Dubai's opulent hotels, located in different parts of the emirate, offer guests an indulgent five-star experience, blending urban chic with traditional local culture. In addition, visitors can enjoy world-class shopping at modern malls and haggling for bargains at traditional souks. The emirate offers a diverse range of activities, from skiing on real snow to traversing sand dunes and exploring stunning Arabic architecture. With its endless array of attractions, Dubai caters to everyone's tastes, making it a highly sought-after destination for both first-time and returning visitors.
Top Epic Dubai Attractions That Will Leave You Mesmerized
UAE Immigration Services has compiled the 5 most attractive Dubai attractions, which attract the majority of international tourists when traveling to the United Arab Emirates.
1. Miracle Garden
The Dubai Miracle Garden is a stunning botanical garden that features over 45 million flowers arranged in beautiful designs and shapes. Located in the Dubailand area of Dubai, it is the world's largest flower garden and a must-visit attraction for tourists. Miracle Garden is a vibrant and colorful oasis, an ideal morning destination for nature lovers who love to go to the gym or do yoga in the morning.
Covering an area of 72,000 square meters, this Miracle Garden is home to over 50 million flowers arranged in intricate designs and patterns like hearts, castles, ducks, and even a giant plane. Emirates. About 70% of the garden's look and feel continuously changes throughout the year, with different themes for each season. Therefore, Miracle Garden will always surprise tourists because of its newness through each season. It's a perfect place for nature lovers, photographers, and families looking for a peaceful escape from the city.
The Dubai Miracle Garden is a stunning botanical garden 
2. Marina Beach Dubai
While Dubai is renowned for its iconic skyscrapers and luxurious shopping malls, the city also boasts some incredible beaches, with Marina Beach being one of the most popular. Located in the heart of Dubai Marina, the beach offers stunning views of the city's towering skyline and is a perfect spot for soaking up the sun, swimming in the warm waters, or indulging in some water sports.
For those looking for a more active day at the beach, Marina Beach offers a range of water sports, such as jet skiing and parasailing. The beach is blessed with some scintillating sceneries and a picturesque backdrop; thereby making it a perfect natural setting for Dubai strollers. The tranquility and calmness in the atmosphere there soothes your nerves and allows visitors to relax for the moment.
3. Dubai's Museum Of The Future
Dubai's Museum of the Future is one of the most famous Dubai museums and a must-see attraction for anyone who has ever envisioned what the future might hold. This groundbreaking museum is the first of its kind, designed to revolutionize our understanding of the future and offer visitors an immersive experience that will leave a lasting impression. The unique structure houses a range of future environments that transport visitors to an empowering vision of what the future could be. 
Through distinct themes, the museum provides a glimpse of a world we once thought was only possible in the distant future. By merging science, technology, and spirituality in meaningful ways, the Museum of the Future inspires us to reimagine the future and consider the limitless possibilities that lie ahead.
The museum provides a glimpse of a world we once thought was only possible in the distant future 
4. Dubai Aquaventure Waterpark
Dubai Aquaventure Waterpark is an award-winning waterpark located in the iconic Atlantis Hotel at the marvelous Palm Jumeirah Islands. It is one of the best Dubai water parks in the UAE, offering an array of exciting rides and attractions like Trident Tower, Shockwave, and Blackout.
With its unique rides and attractions, Aquaventure Waterpark takes the standard water theme park experience to a whole new level, making it a must-visit destination for those seeking a thrilling aquatic adventure in Dubai.
Aquaventure Waterpark is an exciting award-winning waterpark 
5. Dubai Safari Park
If you're looking for a wild adventure that brings together animals from all over the world in one place, Dubai Safari Park is the perfect destination for families. Dubai Safari Park covers an enormous 119 hectares of land and is home to over 2,500 animals from around the globe. Lions, giraffes, camels, and even moon bears can all be found within the park. It is divided into different areas with animals that are native to those regions.
Visitors can embark on a journey through the jungles of Asia, the deserts of Arabia, the rainforests of Africa, and more. For animal enthusiasts, Dubai Safari Park is a must-visit destination that serves as a wildlife park, animal sanctuary, and educational center. Along with interactive experiences and live shows, visitors can get up close and personal with an extensive range of exotic animals.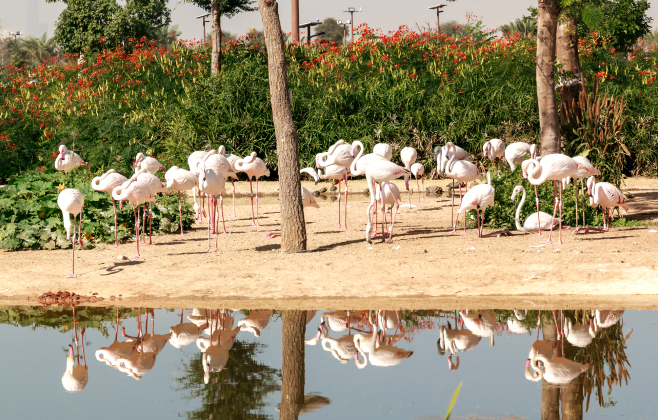 Dubai Safari Park is where animals from all over the world are gathered 
Something About Dubai Attractions & UAE e-Tourist Visa For International Visitors
In conclusion, Dubai's attractions offer a unique and unforgettable experience. With so much to see and do, it's no wonder that Dubai is one of the most popular tourist destinations in the world. What are you waiting for?
Get a UAE/Dubai e visa for a memorable trip to visit Dubai attractions. UAE Immigration Services also clarifies the most recent UAE visa requirements on our website. We hope this article will help you discover more about the top Dubai/UAE attractions.
HOW CAN WE HELP?
NEED HELP 24/7
Wordwide phone support

How it works ?
APPLY WITH CONFIDENCE
Safety, Fastest, Reliable, Save Time.
Secure Online Payment.
3 Working Days Guarantee.
No Hidden Fees and No Traps.
Money Back Guarantee if Declined.